Mailing List – Sign Up Now!
Sign up for my mailing list today, and I'll give you a FREE BOOK to get you started!
A Billion Little Clues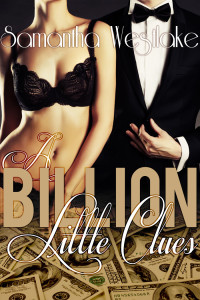 Melinda Gaines, overworked personal assistant, is cursed with permanently bad luck. Her boss keeps making unreasonable demands, and no guy has seen the inside of her apartment in months.
But when Melinda is sent to a party at the CEO's house, she ends up on a romantic, moonlit balcony with an unnervingly handsome stranger. Melinda is convinced that her run of bad luck is over.
That is, until she finds that her latest crush is being accused of murder…
Get this full-length romance novel for FREE by clicking below!